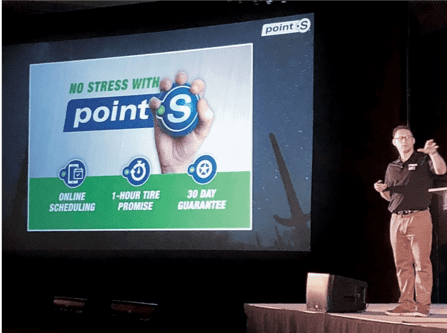 Stress is certainly no stranger to the advertising world. At the heart of advertising is creative ideation – a marriage of expectations and deliverables compounded by stress.
There's pressure…
There're changes…
There's a story to tell…
However, it's all those things that attract us Type A people to the ad biz. The aspiration behind the stress? Easy! It's the intent to use our abilities to put our stamp on a project, an initiative, or a client's case study. Backing our stress-fueled desires as well as the determination to deliver a polished end product that will catapult our client's business to the next level of success.
Recently, we were challenged to zero in on the emotion of stress. One of our clients, Point S Tire & Auto Service (a national, 200-store chain of independent tire dealers), was looking for the next evolution of their brand. So, the MBT team went all-out stress as we adopted the positioning line, NO STRESS WITH POINT S.
STRESS. The very word is enough to make your head throb and your chest tighten. For most companies, bringing a word to the table that carries so much emotional baggage… well, it would go over like a lead balloon. But it's in that emotion that we saw the opportunity. We saw the ability to translate authenticity — defining the commitment Point S makes to their customers with an easy, NO STRESS WITH POINT S experience. It became the foundation for aligning our client with today's – people that are busy and don't want to spend time worrying about their car maintenance.
Recognizing that the statement NO STRESS WITH POINT S evokes emotion, it was important that we translate what alleviates that stress through direct, practical explanations.
Point S recently held their annual gathering for their owners when hosting their Annual Owners' Meeting in San Antonio. With their owners as the backdrop, we shared our stress with them.
We broke down the concept of NO STRESS WITH POINT S into three actionable, easily identifiable benefits that can be delivered to their customers.
1) Online Scheduling
2) 1-Hour Tire Promise
3) 30-Day Satisfaction Guarantee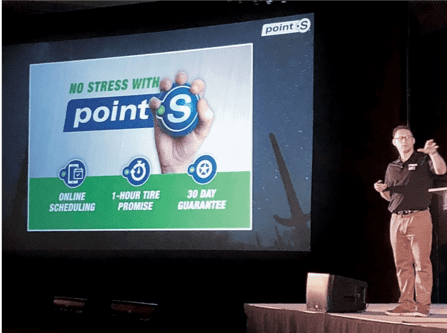 Of course, the irony of the new positioning statement for Point S was not lost on us. Countless hours of focus, determination and hard work brought us to that point. The results were a fully-developed, creative campaign that includes the following:
Video
Not just your standard 30-second spots; but the translation of the message into 15-, 10-, and 6-second spots.
Store Collateral
We knew that we must carry the vision of NO STRESS WITH POINT S from initially greeting customers walking the front door through to point-of-sale.
Digital & Social
Then it was necessary to empower the new positioning line with distinguishable calls-to-action that fit naturally into their social media feed – developing calls-to-action that get noticed when searching the world wide web.
Now, it's time to kick back and relax! Nah, just kidding! It's the ad biz after all – And we thrive on stress.